Delivery
The rental charge also includes delivery and return postage to us (within Japan).
Generally we send phones to the customer's hotel or other address as requested.
We can also send to the post office at the airport you arrive at for you to pick up there, or to any other post office in Japan. For more details click here
Next day morning delivery is usually possible if we receive orders by 4 pm Japan time on weekdays. Sending to airports next-day delivery will be after 3pm.
If you prefer delivery to be made your home/office address before you arrive in Japan, this can be arranged for an additional charge of Yen 1000. We like to receive the order at least 10 days before departure in this case - delivery should be just 3 days to most major countries, but there are sometimes hold-ups in customs.
We send phones in a small padded bag, which also contains a battery charger, return envelope, and simplified operating instructions.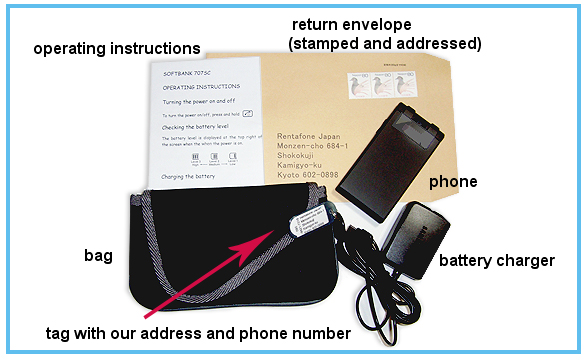 If you would like a belt case/ neck strap / ear phone please let us know.
There will be a small additional charge for extra postage.
Japan is now open to visitors again, but we are sorry to say that we will not open again.
Return
To return the phone, please place it with the charger in the padded bag and put this in the return envelope provided – you can mail it at any post box in Japan, or you should be able to ask the front desk of your hotel to send. There are post boxes at the major airports (but not after passport control).
If you mail back from abroad, please add "Japan" to the address and postage from your country.
Charges will start from the delivery date requested and end on the date you mail the phone back to us.
Once we get the phone back, we will delete the records of calls made and received, as well as the numbers stored in the memory and any photos taken.
footjob-hd.net